ON THE DAY
Arrival and introductions to the staff who will be running the event
Get kitted up and ready to play
Warm Up
Let the games begin!
The winning team is announced and awarded with their trophy!
ALSO IN YOUR PACKAGE
Events Manager
Supporting HireAPitch Staff
All equipment
Venue Hire
Medals and trophy
Full set up and pack down
OPTIONAL EXTRAS
Photographer
Photobooth
Catering
Inflatables
Popcorn Machine / Candy Floss stall
Extended event
& many more...
KEY BENEFITS
Team Building
Communication
Planning Ahead
Sports and Fitness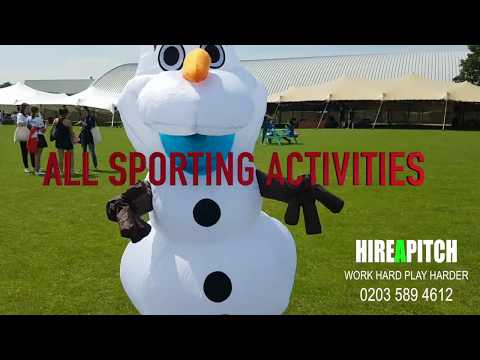 ABOUT THIS ACTIVITY
Our Sports tournaments span from Football, Rounders, Dodgeball, Netball, Hockey to even Quidditch.. Thats right the Harry Potter Sport.
There is nothing we cannot do and as the exclusive providers of top quality UK sports locations you will have everything organised from the venue to the referees, balls, bibs and even a BBQ if you want it.
Depending on the venue we can cater for small tournaments of 4 teams with our largest venues being able to accomodate 60 teams.
Our venues range from 3rd generation Sports pitches (advised for football) to astroturf and MUGA sports pitches. Not sure what this all means? Do not worry our team will be there to guide you through the entire process.
We can also combine all sports into 1 amazing fun filled day. Venue - Management - Equipment - Fixtures and Results will all be included.

Our packs also include Trophies for winners and medals for the runners up. You can choose from standard 10" trophies to large 22" inch trophies so you can really spoil the winners, there is even a plate for the losers.
Not sure how to run the event and organise games? We are able to do the fixtures for you and host them via our online server, this means that the teams can see games up to 72 hours before kick off. So your teams know exactly what time they're playing and where. This also adds build up to what could be a long awaited tournament.
Our top Sports tournaments:
5 a side football tournaments (evenings after work followed by BBQ) @ multiple locations
7 a side football tournaments (evenings after work followed by BBQ) @ West Ham Tiger Turf
Netball tournaments (day time social followed by evening meal) @ Somerstown, Euston
Dodgeball & Rounders event (Afternoon event followed by evening meal) @ Regents Park
Multi Sport tournaments lasting a half day @ Chiswick @ White city @ West Ham @ Shorditch

Testimonials
"It's so difficult to find somewhere that is able to run a tournament for you and find a venue for you too, fab service and team."
"I never thought of running a tournament for dodgeball with my colleagues, it was so much fun!"
"Brilliant Day! So well run and organised."