ON THE DAY
Your day will start with a fancy new outfit (it won't be glamourous, but at least you'll be warm!)
After you're all kitted out, you will be given a brief health and safety talk. Not the most exciting but its important stuff.
Your instructor will show you the best way to build your raft. This includes knots and where you tie them. Then, you're on your own! (Not entirely, if you get stuck we can lend a hand)
Once your rafts have been built, you'll take to the water!
When you have had a few games on the rafts and a race or 2 there is the optional extra to hire the kayaks and canoes.
ALSO IN YOUR PACKAGE
Events Manager
Trained team member to hold your event
All equipment needed
Supporting HireAPitch Staff
Venue Hire
OPTIONAL EXTRAS
Photographer
Catering
Extended event
Kayaking and/or Canoeing
KEY BENEFITS
Teamwork
Communication
Teambuilding
Coordination
Listening Skills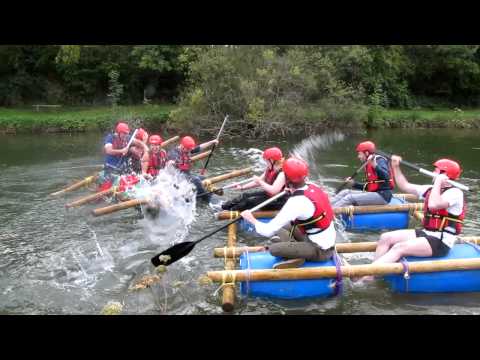 ABOUT THIS ACTIVITY
Raft Building is an incredible event that will take you and your team to the water. We guarantee that everyone taking part will be working together and communicating to build the best and most sturdy raft. Keep the fun going and give our Kayaks and Canoes a go too!
This corporate event is filled with exciting races and games on the water. Not competitive? Most people won't be able to resist the urge to get going and win the races.
We are not able to guarantee that you will be leaving this event dry, just make sure that you tie your knots as tight as possible if you don't fancy taking a dip!

Don't forget to bring a change of clothes and shoes to this event. We do not supply socks and underwear so you will need to bring those too!...
We have multiple locations across the UK that we are able to hold the events at, let us know where you are coming from and we will let you know the most suitable location!
We can also add on:
Canoe Racing
Bell Boat Racing
Dry Raft and Cycle Building

Testimonials
"I knew I was bad at building things, but not that bad... My team will never trust me to tie knots again! We had a great day and will be looking at Raft Building again in the warmer weather."
"Kayaking and raft building were a huge hit for our team building event, even if most of us did get a bit soggy!"
"Absolutely amazing day! "