ON THE DAY
YOUR DAY WILL START WITH THE CORRECT PROTECTION CLOTHING ON (IT WON'T BE GLAMOUROUS, BUT AT LEAST YOU'LL BE SAFE!)
AFTER YOU'RE ALL KITTED OUT, YOU WILL BE GIVEN A BRIEF HEALTH AND SAFETY TALK. NOT THE MOST EXCITING BUT ITS IMPORTANT STUFF.
YOUR INSTRUCTOR WILL SHOW YOU THE BEST WAY TO SHOOT YOUR ARROWS. THIS INCLUDES HOW TO LOAD UP YOUR BOW. THEN, YOU'RE ON YOUR OWN! (NOT ENTIRELY, IF YOU GET STUCK WE CAN LEND A HAND)
ALSO IN YOUR PACKAGE
Coordination and management of the event
Referee to host games
Specialist equipment for games
Full training and safety brief before the event
OPTIONAL EXTRAS
Catering
Event Photography
Tea, Coffee and nibbles
Extended events
KEY BENEFITS
Communication Skills
Planning
Teamwork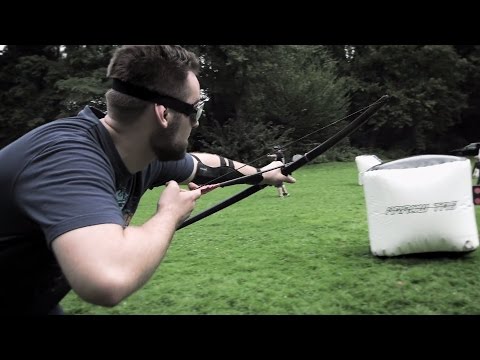 ABOUT THIS ACTIVITY
WHAT IS ARCHERY TAG ALL ABOUT?...
Archery Tag similar to dodgeball but instead of using a ball you're using our bows and patented foam-tipped arrows. This is an exciting, action packed game that offers the ultimate experience that engages everyones!
Who wants to attend another boring team building event, or a birthday party where the children can't run off some steam?! Archery Tag is high energy and gets the team working together to take down the opposing team.
Don't worry, you don't need to move quickly. This game is suitable for everyone and is an excellent way to break the ice.
Family vs. Family? Hen vs. Stag? Parents vs. Kids? – Whatever team you choose this game is the one for you!
Archers, take aim and fire in this fantastic team building event!

The Rules...
Standard Game Play, Elimination. (All size pitches):
All bows and arrows are lined up in the safe zone. When the game begins all players will need to rush to get their bows and gather as many arrows as possible. Once the player has returned to the attack zone they are able to start shooting.
The rules are similar to dodgeball. A player is out if they…

Are hit on any area of the body by an opposing players arrow
Players equipment is hit by an opposing players arrow (mask, arrow, bow)
If a player catches a bow that was shot at them in mid-air, the shooter is then out.
A player can return to the game if…

Their team mate catches another player out
Their team mate knocks out one of their targets
The winning team is the team who eliminates all the opposing team players first, if not all members have been eliminated within a time period of 10 minutes the winning team is the team that has the most players still in play.
If the teams have the same number of players in play the game will go to sudden death. All players will get 1 arrow each, the first team to make a successful hit is the winning team.

Testimonials
"" Even better then paintballing! " Fred, Corporate Sports Day"
"" Very well organised! " Davido, Team Social Day"
"" At first I was petrified, however the instructor made us feel safe and showed us how to play the game! " Sophia, Brix&Co."